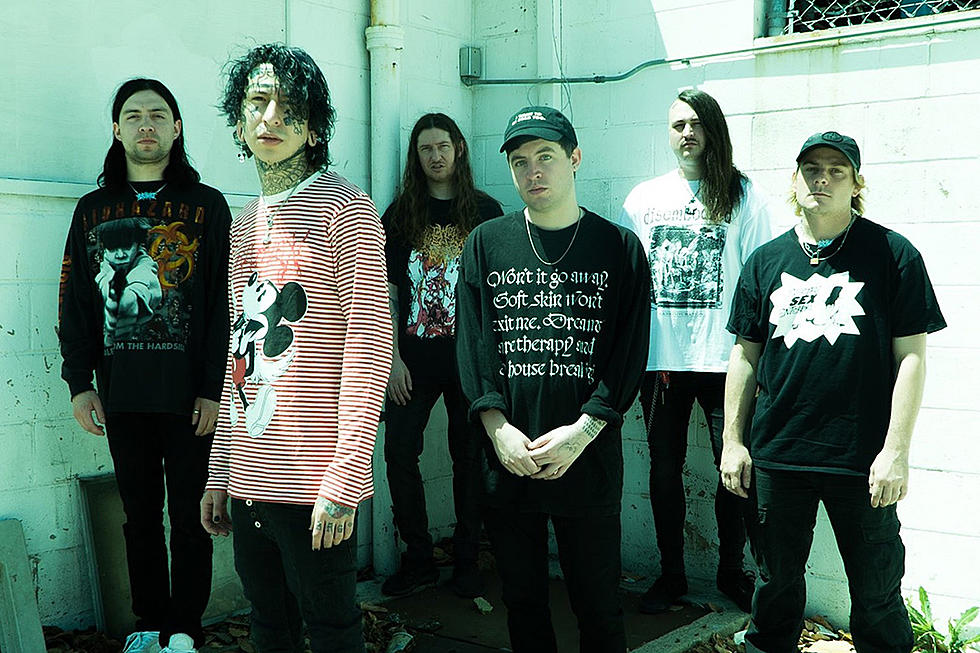 The From First to Last + SoundCloud Rapper Supergroup Dropped an EP and It Sounds Like 2004
Crystina Bond
The supergroup composed of From First to Last member Travis Richter and several SoundCloud rappers has made good on their promise to release an EP this week. The group's name is If I Die First, and the six-song release, entitled My Poison Arms, arrived on most streaming services Friday (July 10).
The band's debut single, "Where Needles and Lovers Collide," paved the way on Monday (July 6), giving listeners a taste of the nostalgic fare to come. On My Poison Arms, Richter and bandmates Lil Lotus, Zubin and Nedarb deliver 17 minutes of hook-infused screamo that sounds like it came straight from 2004.
That means chunky guitars, throaty yowls and earnest vocalizations are abundant on the new effort — but that's not all. On the EP's closing tune, "I'll Never Let Them Hurt You," If I Die First provide a bittersweet acoustic number. It's perhaps the most emo-sounding effort yet released by the supergroup.
According to the band members, If I Die First also includes the rhythm section behind trap metal rapper Ghostmane.
"The new band is me singing," Lil Lotus told AltPress in April. "I'm not playing an instrument or anything. Zubin sings with me, and he's playing keys—I don't know if a lot of people know this, but he's an amazing pianist. Then Nedarb's playing guitar, and he's doing some singing, too."
He continued, "Then there's Cayle, who plays drums for Ghostemane … [and] Nolan, he plays bass for Ghostemane also. He's a fucking sick ass dude and sick ass bass player. And then this one is sick. Travis Richter [From First To Last] is a guitar player and backup screamer with us. That's a new [addition]."
Talk about a lineup. Prepare to teleport back to screamo's golden age with the debut release from If I Die First. Listen to it down below.
If I Die First, My Poison Arms EP (Spotify)
If I Die First, My Poison Arms EP (Apple Music)
25 Scene Albums Turning 10 in 2020