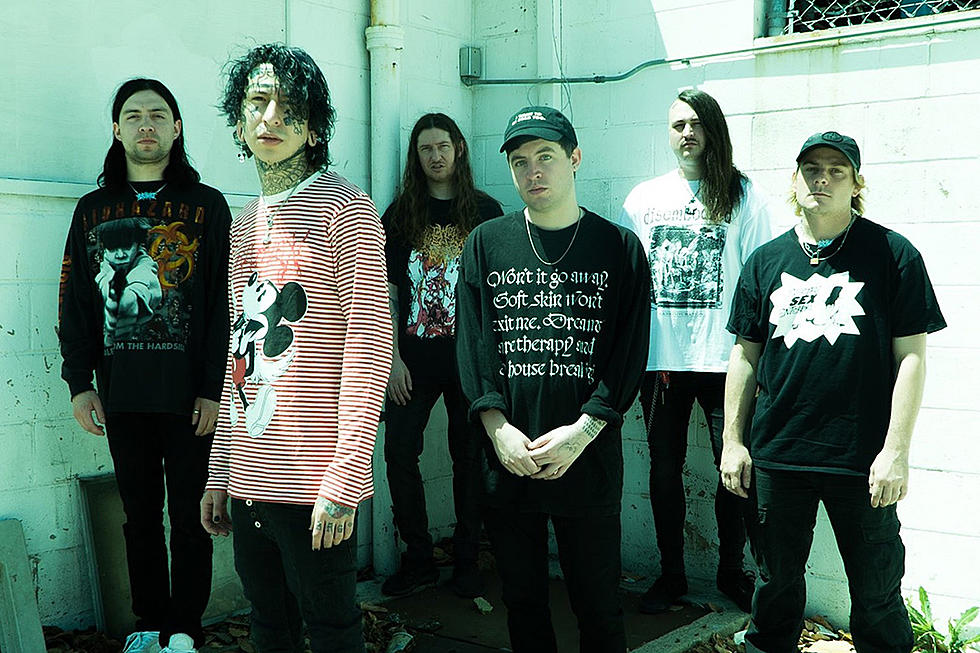 From First to Last Guitarist Forms Screamo Band With Soundcloud Rappers: Listen
Crystina Bond
From First to Last guitarist/screamer Travis Richter has formed a throwback screamo band with some Soundcloud rappers.
If I Die First is the name of the project that features Richter, Lil Lotus, Zubin and Nedarb, as well as the bassist and drummer of trap-metal trailblazer Ghostemane.
The six-piece just dropped their debut song, "Where Needles and Lovers Collide," which you can check out below:
The self-released track has a classic screamo vibe that's very reminiscent of From First to Last, as well as the Risecore glory days of Drop Dead, Gorgeous and Sleeping With Sirens.
Back in April, Lil Lotus spoke to AltPress about the new band, and how the partnership with Richter came about.
"The new band is me singing," Lotus said. "I'm not playing an instrument or anything. Zubin sings with me, and he's playing keys—I don't know if a lot of people know this, but he's an amazing pianist. Then Nedarb's playing guitar, and he's doing some singing, too. Then there's Cayle, who plays drums for Ghostemane—he's a fucking insane drummer. Then Nolan, he plays bass for Ghostemane also, he's a fucking sick ass dude and sick ass bass player. And then this one is sick. Travis Richter [From First To Last] is a guitar player and backup screamer with us. That's a new [addition]."
"We all started tracking some new shit the other day, and we all put our input when we're writing," he continued. "I'll be humming melodies, and then someone's like, "That one!" Then we're like, "Yeah, that's cool. Now we just need lyrics." Then someone's like, "Wait! Do it like this!" and then we'll be like, "Oh shit, let's do it like that." It flows perfectly. We just knocked out a new song in no time yesterday."
Furthermore, the band have confirmed that their first EP will drop later this week on July 10, with a bunch of merch options available online now.
Based on this first song, we can't wait to see what If I Die First come up with next.
"Where Needles and Lovers Collide" Lyrics (via Genius)
[Chorus: Lil Lotus]
I'll stay right here
Like the liquor in her gut
Separation's not enough to break this curse
[Verse 1: Travis Richter & Lil Lotus]
We run in circles (in circles)
Revelations of you in my mind (in my mind)
We run in circles (in circles)
Revelations of you in my mind (in my mind)
Well, don't you think for a second that this could be over
([?] forever)
It's always times like this that I find it hard to break
Me believe, you can stay
[Chorus: Lil Lotus]
I'll stay right here
Like the liquor in her gut
Separation's not enough to break this curse
[Verse 2: Travis Richter, Lil Lotus, & Zubin]
Sorry I'm sorry but baby you were always bringing me down
(Bringing me down)
(This is not enough, am I the only one?)
Am I the one who hates goodbyes?
The words that kill me deep inside when you say goodnight
Baby I'm here with shattered glass
You taste my love we'll have our ways
You seen the diamonds in my eyes
Well they weren't dead to you, surprised me it came back
(Our love is shipwreck sinking fast, hold me close baby, you said I'm your lifeline)
[Bridge: Lil Lotus]
Well don't you think for a second that this could be over
(could be over)
Well don't you think for a second that this could be over
(could be over)
Don't you think for a second that this could be over
(could be over)
Don't you think for a second that this could be over
(could be over)
[Outro: Zubin & Travis Richter]
Every time that you leave all the diamonds fall out my eyes
(I wanna love you, but you don't love you, until I love me too)
Every time that you leave all the diamonds fall out my eyes
(I wanna love you, but you don't love you, until I love me too)
Am I the one who hates goodbyes the words that kill me deep inside when you say goodnight
13 Emo Albums With No Bad Songs
Emo Albums With No Bad Songs