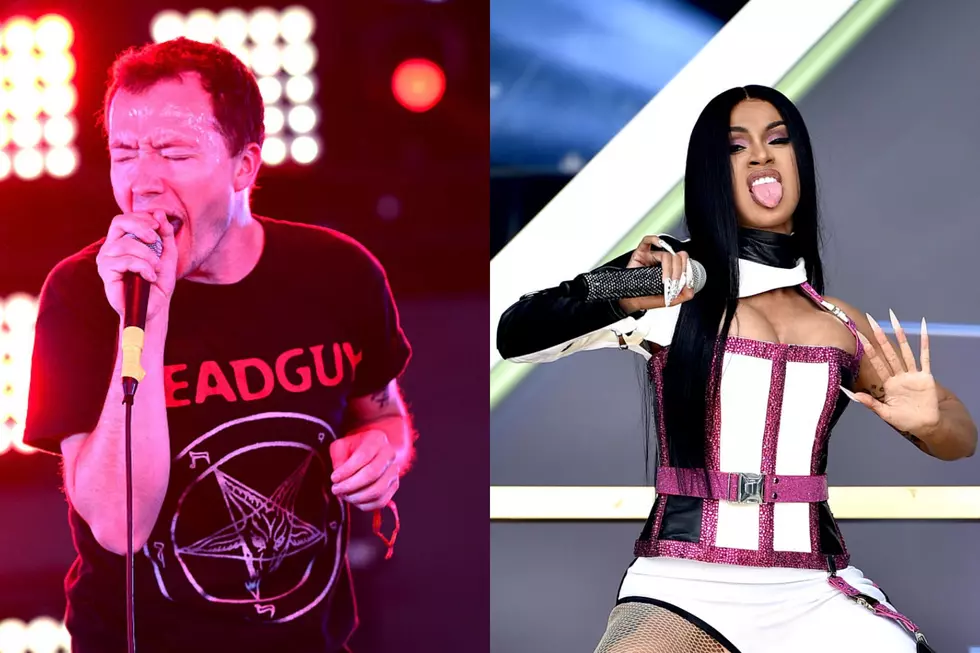 Guy Who Worked on Touché Amore's New Music Video Also Worked on Cardi B's "WAP"
Jason Kempin, Getty Images; Theo Wargo, Getty Images
A guy who worked on Touché Amore's new music video also worked on Cardi B's "WAP" music video.
Touché Amore released the video for "Limelight,"  which features Manchester Orchestra's Andy Hull, earlier this week, before taking to social media to reveal its connection to Cardi B's now notorious song.
"'The Limelight' music video was colored by Bryan Smaller at Company 3. Bryan also colored the "WAP" video!" the band said on social media.
Check out Touché Amore's video for Limelight below:
"Limelight" is taken from Touché Amore's upcoming fifth album Lament, which is due for release Oct. 9 via Epitaph.
Speaking about "Limelight," frontman Jeremy Bolm said the following:
"When you're connected to someone long enough, and you've both suffered losses and been there for one another, there's an understanding and a beauty to the quiet moments. There's a great line in Pulp Fiction when Uma Thurman boasts knowing when you've found someone really special, when you can just, 'Shut the fuck up for a minute, and comfortably share silence.
"I imagined that you'd be shamed for casually omitting that a day or two may go by without realizing you haven't kissed your partner, but at no point did things feel bad," he continued. "You're just in it and it feels like home."
Touché Amore "Limelight" Lyrics
We sway like brittle branches
One gust and to earth we come
I'm grinning because I know
I'm grinning just because
Taking orders never suited me
Saying no just for the thrill but tonight we're moving slowly while the cavalry moves in for the kill
I'm tired and I'm sore
I'm not so young anymore
Worn down, but I imagine
This uniform stays in fashion
We've poured ourselves in these sweet white dying dogs
Some nights not kissing
Some nights just because
If we hear a crash
We can only expect the worst
But tonight we're moving fast
While the party resumes the search I'm tired and I'm sore I'm not so proud anymore
Worn down, but I've decided It's open casket you're all invited
My head in your lap from
The wandering blackout
The touch of your hand, you're the last one to back out
There's nothing to argue, there's only a title
The worst's yet to come well the worst's not invited I make separate fists while I swallowed the pride
I am haunting an old roll of telephone wires
It's not how it was but it's not getting lighter
The weight is immaculate, the depth is inspired
It's let in, eyes tired I hold waste, stop fires I want hope, faith higher
I'm lost now, loss tires
So let's embrace the twilight
While burning out the limelight
13 Emo Albums With No Bad Songs
Emo Albums With No Bad Songs