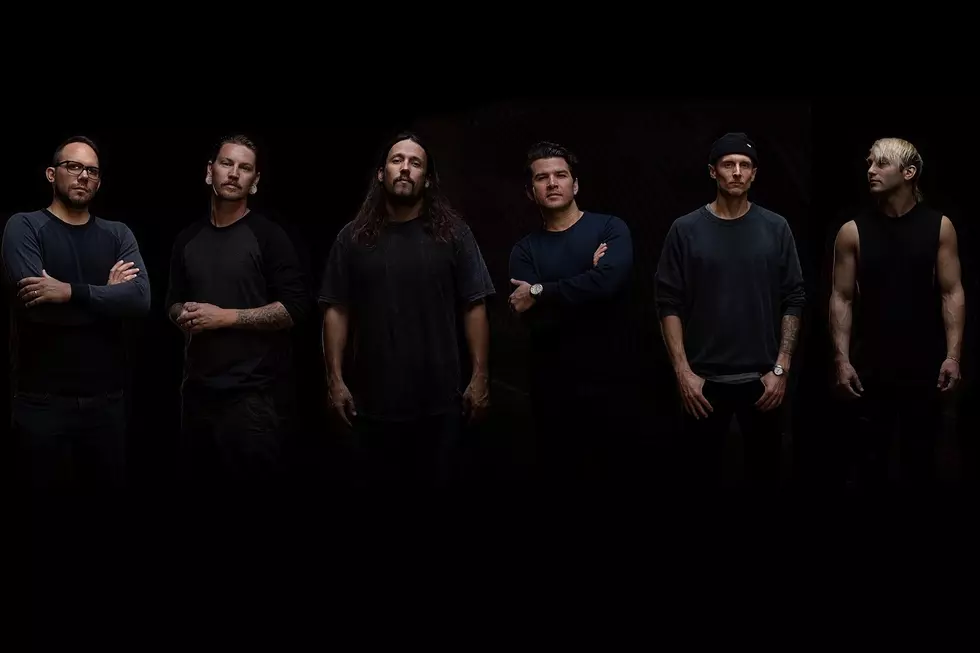 Scary Kids Scaring Kids Announce More Reunion Tour Dates With Cove Reber
Heidi Crawford
For Scary Kids Scaring Kids, getting the band back together seemed a far-fetched idea after the Arizona post-hardcore synth-rockers broke up in 2010. Of course, the possibility appeared even more remote following the tragic 2014 death of lead vocalist Tyson Stevens. But fate had other plans for the surviving members.
A successful 15th-anniversary tour commemorating the group's 2005 debut album The City Sleeps in Flames covered the Western United States in January. For the occasion, former Saosin singer and current Dead American frontman Cove Reber grabbed the mic among returning members Pouyan Afkary (keyboard), Chad Crawford (guitar) and original drummer Peter Costa. Also along for the ride were guitarist Don Vedda and bassist Jordan Flower. Now, the reunited act is ready to do it again.
This summer, Scary Kids Scaring Kids featuring Cove Reber will bring the show to the East Coast. That means fans on the other side of the U.S. can get a taste of the nostalgic festivities that rocked from California to Texas earlier this year. As much a tribute to Stevens as a celebration of the music he helped create, The City Sleeps in Flames anniversary tour will hit the additional destinations in June and July. Scheduled to support are The Classic Crime, Picturesque and Eidola. (See the dates down toward the bottom of this post.)
As Afkary indicated to Loudwire last year, the band focused on exceeding concertgoers' expectations with the reunion. Still, the musicians had some reservations when it came to presenting the songs first given voice by their late bandmate. However, the crowd reaction quickly quelled any fears the outfit harbored, as the keyboardist more recently explained.
"We were nervous about taking something that was part of Tyson's story and continuing that or changing it," Afkary told Note to Scene. "At that same time, we didn't want to hide something that was there, or stigmatize what he went through. But people were singing our set from beginning to end, and that's something that we didn't expect. After the first show, we were like, 'OK, cool.' We could relax."
Further helping to facilitate the tour's respectful momentum was the nonprofit organization To Write Love on Her Arms. A representative from the mental health and addiction charity traveled with the band and was present at each concert. The organization will also be involved in the upcoming dates. It's an initiative that Afkary called "probably the best decision we made for the reunion tour."
After all, Scary Kids Scaring Kids are a long way from their carefree days as a hungry band of juvenile scenesters. They formed in 2002 in Gilbert, Arizona, and self-released an EP before being picked up by Immortal Records. The City Sleeps in Flames followed; a self-titled album emerged in 2007. When the band called it a day in 2010, a third album was partially in the can. Nearly a decade later, "Loved Forever," Crawford's 2019 tribute song to Stevens, reignited interest in the group.
"We started our band in high school, and for us, it was just about having fun," said Costa, the drummer who played on The City Sleeps in Flames but left the band soon after. "You don't expect something like this [reunion] — I had no idea that this would've happened. Sometimes you entertain it in your mind, but you're like, no, wait — that's never going to happen. That's what this is. It came out of absolutely nowhere. And it's amazing to be able to do it."
But perhaps a remaining question on fans' minds is if a new album will result from the reunion. As mentioned above, the group was amid recording sessions when things imploded back in the day. Committed to tape was music for numerous unheard songs, although Stevens never completed any vocal tracks. Could Reber possibly give life to those shelved tunes?
"No plans to do an album," Afkary answered. "If we did, we would want to invest the right amount of time into it. But never say never. It's an exciting prospect, a lot more exciting than it was just a couple of months ago. But we'd have to make sure that we got Cove on board, along with some other folks. It would take a lot of time."
For now, Scary Kids Scaring Kids are concentrating on bringing their anniversary tour to the rest of the country. It may have been a far-off possibility just a year ago, but now the reunion is in full swing. For longtime listeners, the only medicine might be catching one of the shows in a city near you this summer.
"These have been some of the most memorable shows we've ever played," Afkary added. "People wanted us to do this, and that's what we needed to know. And with Cove, we could honor Tyson's memory in a significant way."
Get tickets and VIP packages for the upcoming tour here.
Scary Kids Scaring Kids Summer 2020 U.S. Tour Dates
June 27 – Chicago, Ill. @ Bottom Lounge
June 28 – Detroit, Mich. @ The Loving Touch
June 29 – Pittsburgh, Pa. @ Rex Theatre
June 30 – Cleveland, Ohio @ The Foundry
July 1 – Nashville, Tenn. @ Exit Inn
July 2 – Atlanta, Ga. @ The Masquerade (Hell)
July 3 – Tampa, Fla. @ The Orpheum
July 4 – Orlando, Fla. @ The Abbey
July 5 – West Palm Beach, Fla. @ Respectable's
July 7 – Greensboro, N.C. @ Blind Tiger
July 8 – Richmond, Va. @ Canal Club
July 9 – Baltimore, Md. @ Ottobar
July 10 – Philadelphia, Pa. @ The Foundry
July 11 – Brooklyn, N.Y. @ Brooklyn Monarch
July 12 – Worcester, Mass. @ Palladium (Upstairs)
25 Scene Albums Turning 10 in 2020