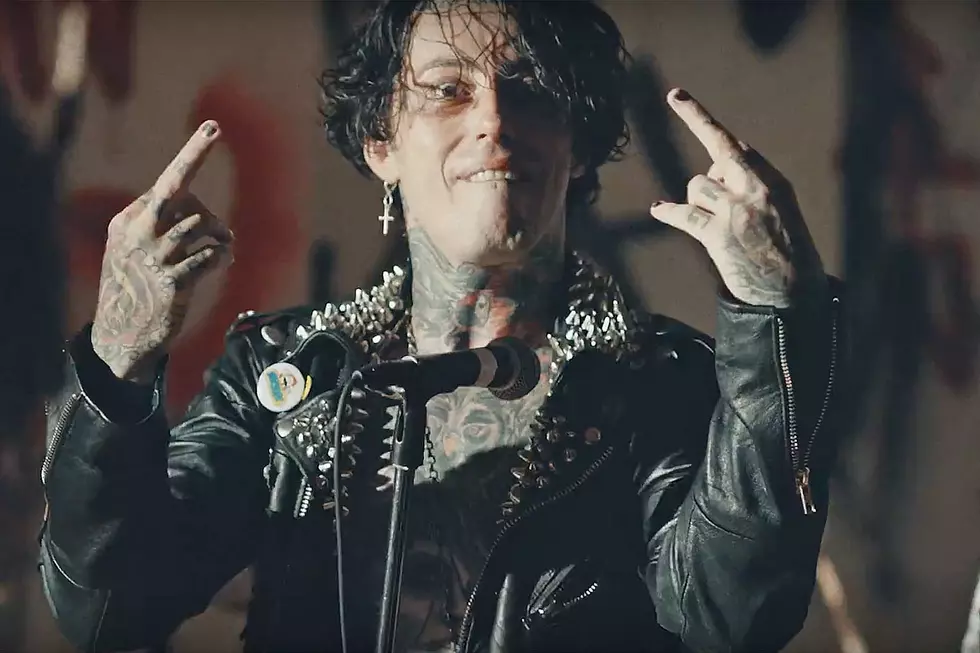 Ronnie Radke Thinks Bring Me the Horizon Ripped Off Architects
YouTube, Epitaph
Fans of Falling in Reverse singer Ronnie Radke know the musician speaks his mind on Twitter — or anywhere, for that matter. Case in point: Radke took to the social networking service Monday (Jan. 13) to offer his thoughts on Bring Me the Horizon and that group's apparent debt to metalcore acts such as Architects.
Toward the bottom of this post, see the exchange where the Falling in Reverse frontman and former Escape the Fate member was responding to a Rock Feed tweet. That message noted the number of artists today who seem to be aping Bring Me the Horizon's sound. But Radke chimed in with his own criteria.
"You should write one about how bring me copied architects first," the singer said. The tweet that Radke quoted and replied to posited, "One day I'm going to write an essay about all the bands who have copied Bring Me the Horizon and not given them the credit they deserve."
Of course, Architects are the British metalcore band formed in 2004 by drummer Dan Searle and his late twin brother, Tom Seale, who died in 2016. The group's debut album Nightmares arrived in 2006, and their most recent, Holy Hell, was released in 2018. Fellow English act Bring Me the Horizon also formed in 2004. The Oli Sykes-led outfit forged a stylistic path in metal- and deathcore before going pop with last year's Amo.
Perhaps an essay could be written about one band's aesthetic indebtedness to the other, notwithstanding rock acts now mining both Bring Me the Horizon's past work and subsequent crossover hits for more sonic gold. Then again, an appraisal of the influences behind Radke's creative endeavors could also arise.
25 Scene Albums Turning 10 in 2020