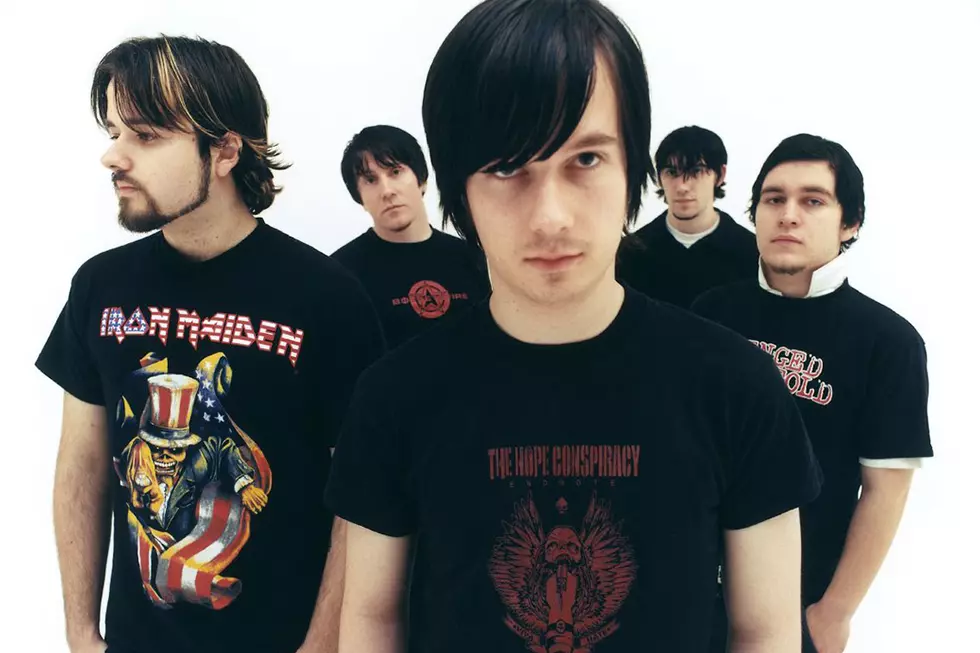 Funeral For a Friend Announce Reunion Shows
Warner
Funeral For a Friend have announced a string of reunion shows!
The Welsh emo heroes have today (July 6) confirmed a full U.K. tour for April 2021, during which the band have stated they will be performing material from their first three albums––2003's Casually Dressed & Deep In Conversation, 2005's Hours and 2007's Tales Don't Tell Themselves.
Check out the announcement from the band below:
Here's hoping the live music scene is back up and running by then.
These new Funeral For a Friend shows will be the first since October 2019, when the band played three charity gigs. They were set to perform at this year's Download Festival in the U.K., but that was cancelled because of the coronavirus pandemic.
Funeral For a Friend released their seventh and final full-length album, Chapter and Verse, in 2015, with their only subsequent release being the Hours live album recorded at London's Islington Academy.
The band recently featured in our list of 12 Forgotten Emo Songs That Are Absolute Classics. Waxing lyrical about "Streetcar," we said the following:
"Despite the growth of the emo scene being felt most prominently in the States, the U.K. gave rise to several killer emo bands during the noughties. One of the finest examples is Wales natives Funeral For a Friend, who broke the hearts of emos across Britain when they announced their split in 2015. "Streetcar," the second track from the band's excellent 2005 LP Hours, is a great example of what made Funeral For a Friend so special, a statement which rock fans in the U.K. certainly agreed with upon its release, the song hitting No. 15 on the singles chart — no mean feat for a track with foundations in post-hardcore."
Check out the full list, which features entries from Amber Pacific, Finch and Head Automatica, here.
Funeral For a Friend 2021 U.K. Tour Dates
04/17 Cardiff Uni Great Hall
04/18 Birmingham O2 Institute
04/19 Newcastle University
04/20 Glasgow SWG3 Galvanizers
04/22 Sheffield O2 Academy
04/23 Manchester O2 Ritz
04/24 London Electric Brixton
55 Scene Albums That Went Platinum
Scene Albums That Went Platinum