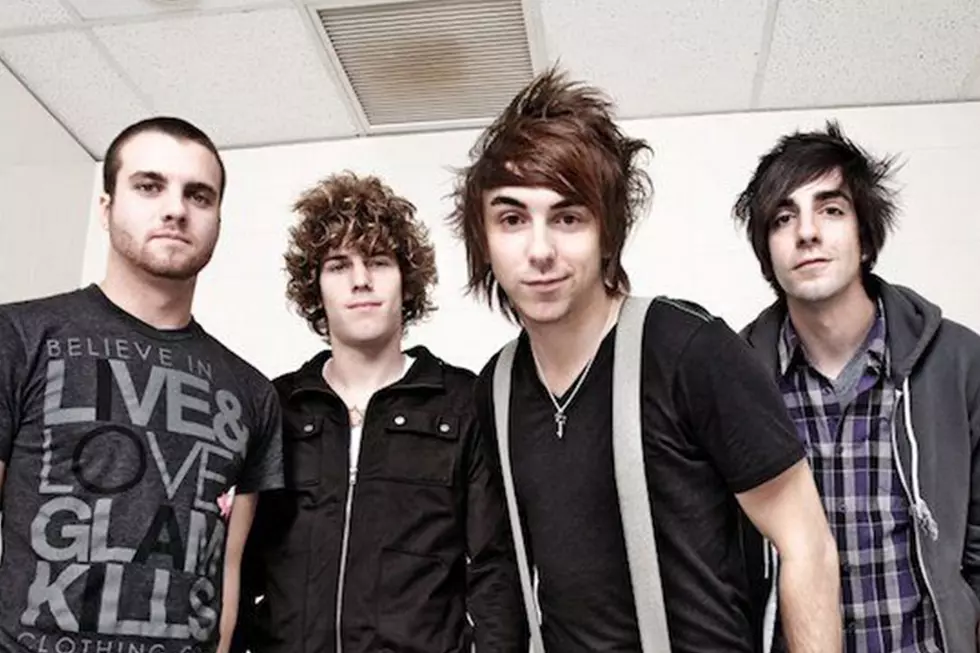 There's an All Time Low Diss Track You've Never Heard Before and It's Hilarious: Listen
Hopeless Records
The scene is no stranger to diss tracks. However, in 2009, one small band took it upon themselves to make a single song calling out not just one, but multiple artists for allegedly trading ingenuity for a higher paycheck. The song in question, "Something Personal" by New Jersey pop-punk band Bright and Early, didn't exactly shake the scene to its core, but it certainly gives us a good laugh to this day.
The song, clearly a play on words of All Time Low's 2009 record Nothing Personal, first makes fun of the band for "striking a pose," before moving onto other scene victims such as Green Day and Cobra Starship.
However, the band's hatred for Cobra Starship's Gabe Saporta doesn't stop at just one line. The song continues to sarcastically call out his old '90s "DIY" project Midtown, before criticizing reunion cash grabs within the industry. "There's nothing we can do, but Midtown could stop it," the lyrics read. "Reunite, tour, at least for the profits."
(Ironically enough, Midtown did end up reuniting for three shows five years later in 2014.)
The band then circle back around and continue going at All Time Low's Alex Gaskarth and Jack Barakat with an Attack Attack! reference: "I wish I could just attack, attack Alex and Jack / The truth is I'm sick and fucking tired / And it's time to crack / And I won't give my respect to those shitty hacks / And the things they lack and their fixed up tracks."
The whole song is a wild from start to finish, and you can listen to it for yourselves below.
And shout out to this Twitter user for digging it up for us all to enjoy.
Bright and Early - "Something Personal"
As for the fate of Bright and Early, the band appear to still be relatively active. Their latest song "Survive" came out in July 2018 and a few of the members seem to have started a new project called Nash Waters, according to the band's Facebook page.
Bright and Early, "Something Personal" Lyrics, via LyricsMania
I never looked right in v-necks or tight clothes
Never looked good in high tops or camo
Never had a fake fur hooded coat
I won't strike a pose like All Time Low
All the Glamour Kills teens and tweak queens of NYC
I know you're hotter than me
But how's it gonna be when you're twenty-three
And you realize you peaked at seventeenSomehow we let it go this far
But we need to bring it down
I could use a change of scenery
And another change of sound
And I'm so ashamed to say
That I stopped liking Green Day
What the hell is going on
Can someone tell meWhy does everybody hate Cobra Starship
Isn't it time that Gabe filled his pockets
Touring all around playing sold out shows
Selling neon yellow clothes to kids like dope
There's nothing we can do, but Midtown could stop it
Reunite, tour, at least for the profits
Hey, it's just rock and roll
And it's not okay to forget what you knowSomehow we let it go this far
But we need to bring it down
I could use a change of scenery
And another change of sound
And I'm so ashamed to say
That I stopped liking Green Day
What the hell is going on
Can someone tell me
I wish I could just attack, attack Alex and Jack
The truth is I'm sick and fucking tired
And it's time to crack
And I won't give my respect to those shitty hacks
And the things they lack and their fixed up tracks
Where did the truth go
I want it back
Somehow we let it go this far
But we need to bring it down
I could use a change of scenery
And another change of sound
And I'm so ashamed to say
That I've given up on Green Day
What the hell is going on
Can someone tell me
Emo Albums With No Bad Songs